2003 was a weird year
Early spring, not sure of the date.
I leave work one evening and take a route home from work that should be a pleasurable long ride home. I get less than five miles from work and hit a huge pot hole and bend both rims on the Trophy. Immediately both tires go flat. Well as it turns out, I am able to borrow a sledge hammer from a near by house and beat the tires back into some semblance of straightness. I put in some fix-a-flat and make it to the closest gas station. New rims and tires are not cheap.

After the initial poor start to the riding season, things look better for a while. My buddy Neil and I decide to plan a little trip out west. Neil is a semi-novice rider. He's never taken any longish trips and says he'd like to do an ss1000 the first day out on this trip. So I agree and we put that in the plan. Other than a helmet Neil didnít have proper riding gear so I found a good deal on eBay for him and he jumped on it. The day before we leave, a coworker says there is rain in the forecast over our planned route. I say, "eh, we can handle a little rain".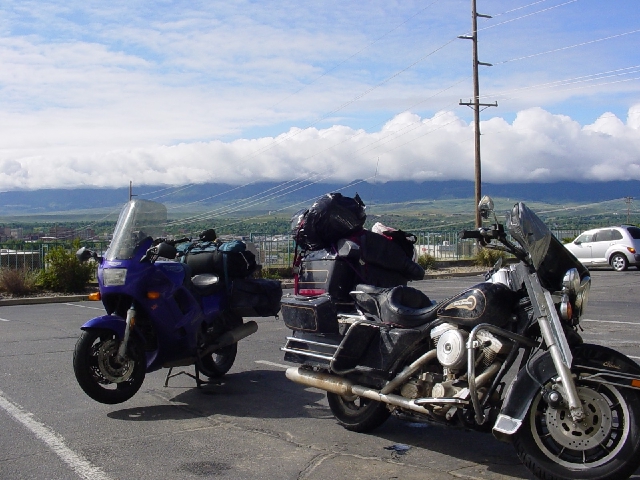 Saturday June 21 2003, Day 1 of our trip.
Day one we get up and prepare to leave for a 1000 mile day. My friend and partner Naomi asked if we could stop by on our way out of town. We stop and I give her a parting hug. Hmmmm kind of getting off to a slow start. It's late, 6:30ish before we have our gas receipts and are on the road, but once going things start looking good. Nice day, temps just about perfect. We cruise along at a good clip through Wisconsin and into Minnesota. Later in the day the wind starts to pick up a little at a time until it seems like we are riding in a gale. If there is one thing I hate it's the wind. It makes for miserable riding. This wasn't consistent wind either, sometimes from the side in huge gusts, sometimes from the front. Some times side and front at the same time. At one point Neil and I pull up to a stop light and the wind pushes him right over. Geez, scratched his fairing. Oh well, could be worse..... It was very exhausting. The wind died down a bit in the evening. At one of our fuel stops Neil says he is hearing storm warnings on the radio. As we are heading into the setting sun, we see storm clouds gathering. Two thirds through this first day we run into a rain storm to beat all rain storms. The initial front of this storm came as evening hit. We could barely see the road let alone other vehicles. It is raining so hard itís raining inside my helmet. We pull off at an exit and wait out the worst of it under a bridge. We, eh, handled itÖ We successfully completed our saddlesore in Wall SD at about 11pm.

Sunday June 22, Day 2
This morning I got a message from Naomi that Karen, a dear friend passed away. I am very sorry to see her go. Today I dedicate my trip to her. She will be in my heart all day. Gods speed Karen. Karen, Neil, and I had a very nice ride today. We went through the Badlands, and the Black hills. We stopped and took photos of Mount Rushmore and Crazy horse. In the evening we set up camp under Devils Tower. After a nice campfire complements of my riding partner, I turned in. I thought of Karen the whole way today. I also thought of my father, and all my friends who are no longer able to enjoy this life as I did today. As much as I enjoyed the day, I cried an awful lot.

Monday June 23, Day 3
I awoke to rain on the tent. So I rolled over to get a little more sleep.
Once I do get up, it is no longer raining and looks to be a nice day. So we pack up and have a little breakfast. By the time we are ready to leave Devils Tower, the weather (as if to prove me wrong) seems to be turning bad again. We head west on 14 through Wyoming. Early on we are riding in the cold. Not too cold but cold enough to make us put on layers. We are about to head up into the mountains. It has been raining a good deal. At a fuel stop on Hwy 16, just before we head up into the mountains, I ask a rider who just came down from where we are heading up what the weather is like. He says, "Itís snowing a little and there is some construction, but itís passable". As soon as we start up the mountain we get stopped at one of the construction zones, there is another bike heading down the other way in the rain. As he passes he yells, "Itís snowing up there!". Oh joy. Rain turns to sleet. Sleet turns to snow. By the time we get to the top, it is snowing like crazy. Coming down the other side, it all goes in reverse. The snow turns to sleet then to rain again. As we approach a couple S turns it seems to me like Neil is moving a little too fast. "Slow down Neil. Neil, slooowww down"! Oh shit, Neilís rear wheel is locking up. He is losing control. He is heading towards that cliff! The bike goes on its side Neil flies off towards the side of the road. The bike slides farther down the hill and rolls over once but stays on the road. As all of this is happening I inadvertently hit my front break a little too hard and my front wheel starts to wash out from under me. I right it, slow to a stop and turn around to go back and help Neil. He is up and walking so he isnít dead. When he hit, it didnít look too good so I didnít really know until I turned around and he was up what I was going to find. Thank goodness for riding gear. Walking back to the crash spot, Neil is already picking up the pieces of his Harley. I remind him that it is just a material thing and so long as he was ok that was all that mattered. A little clichť but true nun the less We pick up the big bike, and he rode it up to where I had mine parked and we tied everything down as best we could. I patched up Neilís hand where he got a bit of a gash, and we rode to the next town. That night we stayed in Thermopolis Wyoming. We got a good meal, and imbibed a little too much before hitting the sack.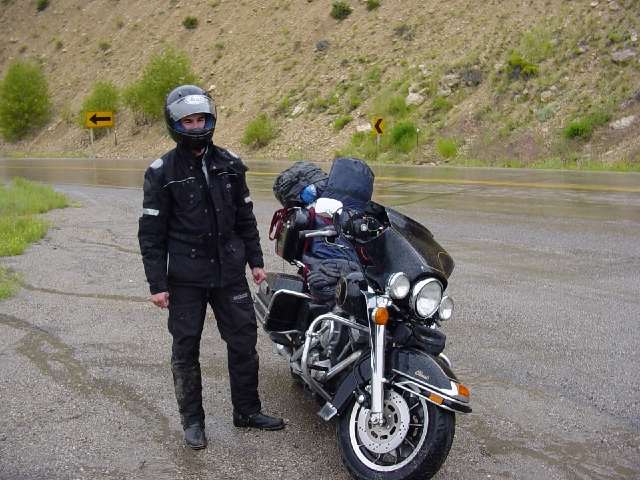 Tuesday June 24, Day 4 of the trip.
After waking up late, we pack up and watch some weather channel. Itís raining. (The day before Neil called around looking for body parts for the Harley.) Having determined that there are no parts available to put the Harley back to some semblance of order, Neil says he wants to push on anyway. What a sport. So we watch the weather a little more and determine to head south and west. After all, it has to get warmer if we go southwest right? Right?! So leaving Thermopolis we head out. Going south a ways we hit a patch of road construction. Mud, mud and more mud. Iím riding in front, watching Neil in my rear view mirror. Suddenly I see something fall off his bike. Itís his sleeping bag. He starts to pull over in the mud and his bike goes out from under him. I canít stop because Iím not sure Iíll get going again. So I ride up a little farther and walk back to him. Once again I help him right his bike. As he straps his bag back on, I walk back and climb on my muddy bike. Soon after that we get to a small town and decide to have breakfast. At breakfast we chat with a couple who came from one of the directions we were considering going. That direction is another high pass that is snowed over. So we head south east. Damn it is cold. All this time my GPS is telling me we are at about 6000 feet or so. Itís COLD! We are cruising along at a good clip and start to wonder about gas. We stop at what looks like it used to be a small town. The gas station no longer has fuel, but there is a bar that has food and coffee. We order coffee, lots of coffee. After we each pour a cup to drink, Neil takes the pot and goes out the door for some reason. Neil comes back with an empty pot. "I poured it on my feet", he says. He must be colder than me. My feet are cold but Iím not that desperate yet. So after we get warmed up a bit we head out again. Ahead we see signs for an intersection. Just before we get there, there is more construction. It is nasty but not as bad as the first muddy construction. At the intersection there is a gas station. (Remember we were looking earlier) So we gas up in another downpour. We go inside to pay and chat with the lady running the place as well as some of the construction workers. The road we were on tees off at the gas station. The way we want to go the workers say there is a mile or two of deep mud. The other way is a few hundred yards of muddy gravel. So we go the easier way. This way ends up in Casper Wyoming. Twice we went away from our intended route. We ended up making a big cold loop around southern Wyoming. It snowed. The roads were bad. It was a miserable day. We only went about 230 miles. If we went straight to Casper from Thermopolis it would have been 130 miles, and probably no construction. You know something? We had fun anyway. After dinner in a nice sports bar we went back to our hotel and washed clothes and slept the sleep of the dead.
Wednesday June 25, Day 5 of the trip.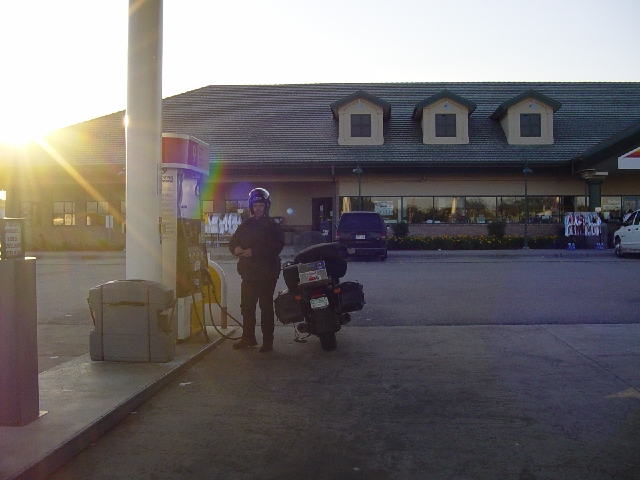 Today Neil and I will part company. He only has so much vacation time. He is going to head in the direction of home. I am going to explore Colorado on my way to Salt Lake City. We both want to head some place warm. With the exception of the first day of the trip we had been doing short mileage days. I put on a little more than 500 miles today. I found some nice roads after Neil and I split off. At Denver Neil went east, I went west. After the last two days of rain and snow, this was fantastic. It was sunny and warm. The day was uneventful with the exception of riding in the fantastic scenery of Colorado. Most of my ride was on state highways. I stop in Aspen for gas. Really expensive gas. Iíd imagine that there are real people that live there but my impression was of snobbery and money. Iíd like to have that kind of money but I hope that it wouldnít go to my head. I end the day in Grand Junction. It was a great day.
Thursday June 26, Day 6
I found a very nice road (Hwy. 139) going up the west side of Colorado. Very nice desert-ish valleys, heading toward Douglas pass. There are fifteen mph switchbacks leading up the pass. I know this is only one of many such roads, but this is the first time I ride this one. I have gone the other way from Grand Junction west and south through Cisco. Thatís another story. I find myself going through some flat portions of Utah until just before I get to Salt Lake City. Then I climb up and over one more pass down into the valley where the capital city lays. This evening after I checked into the hotel I head to Steve Chalmers home and enjoy a nice repast and meet some of my fellow Utah 1088 riders. Afterward I head back to the hotel and relax for the night.
Friday June 27, Day 7
Today I sleep as long as possible. It is the day before the Rally, the Utah 1088. My first LDRally. Registration opened and I fill out the forms and had equipment checked. Everything seems to be in order. We ran the odometer check. Mine was .2 miles over, in 14.3 miles mine said 14.5. The afternoon rider meeting answered a lot of questions. My friend Dick Fish answered a lot more. Rally master Chalmers says there are 40+ bonus locations. Iím very excited. I wonder how well Iíll do. I hope I donít embarrass myself too much. I go to bed early and get a good nights sleep. I know that tomorrow is going to be a long day.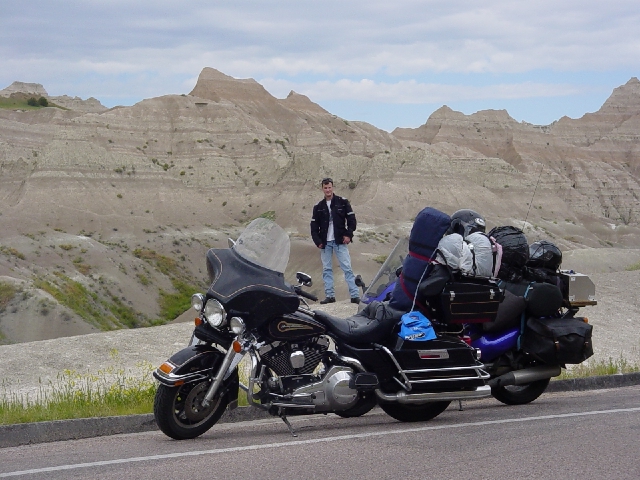 Saturday June 28, Day 8, Rally day
Today is the day. Iím nervous. I hope everything goes ok. My plan is to follow the base route and gather as many points as I can. I intend to reach each checkpoint on time or a little early. After a nice long shower, I dress for hot weather. I also have my Gerbing heated suit for when it gets dark. I know itíll get cold. The Triumph isnít the most comfortable LDMount but it is what I have. I leave everything I donít need for the next 26 hours in my hotel room. Itís now about 5:15am, the rider meeting is at 6:00. We leave at 7:00am. Then for 26 hours itís everyone for themselves. I know my limitations, Iíve pushed the envelope in the past. I donít intend to over do it this day. If I hit a wall Iíll stop. One thing Iím not sure of is the timing. Thatís what I intend to learn from this. As long I donít DNF (did not finish) Iíll be happy. Well the rider meeting was short and sweet. The route packets were handed out and everyone disappeared to their rooms. By the time I got through the route sheets, and out to my bike most everyone else was gone. Oh well. At least I have a reasonable idea of where Iím going as well as how long it should take to get there. I think there should be plenty of time to run the base route and hit most of the bonus locations if I donít dally.
I start out thinking Iím going to be tricky and go backwards on the base route to pick up what would be the second to last bonus. I figured by the time I got there the next morning I was going to just want to keep going and not stop. So after getting this I head out. Iím actually glad I did this because my timing got me to one of the first bonus locations at about the same time as some other riders. After collecting the card from the bike shop and a free bottle of water. I followed another rider out towards the next bonus. Then he was exiting and I didnít understand why. I didnít see any sign this was the road I needed. Maybe I missed it. Sure enough as soon as we turned onto the road I see it is where I need to be. Geez, this early and Iím already screwing up. I vow to myself to be more observant. I stop every now and again to answer a question or take a Polaroid. I picked up one or two of the gps bonus locations. I need to use the gps more to be better at tracking down these kinds of locations. I should be getting to the first check point soon. Yep there it is, a fast food joint. What the hell? As I pull in I see Lord Kneebone and Rally master Chalmers push starting one of the other riders. Kind of funny. I get signed out and use the john in the Arbyís (I think it was an Arbyís).
That first leg was cool, I hit the checkpoint just right, I got most of the bonus locations. The second leg is different. The scenery is bigger. The roads are really cool. From valley floor to mountain pass. Man I got to come back this way. Everything flies by so fast you only have a moment to enjoy and itís gone. I donít mind. Some time Iíll come back and take my time following this route but now I have some work to do. On and on, it goes until I should be getting close to the second checkpoint. Something I havenít mentioned up to this point is that Iíve been having a problem shifting the bike. I canít seem to get it in neutral and it clunks hard going into first. Itís been getting worse as the day has progressed. At the second checkpoint after getting signed out I made it with 5 min to spare, I open the reservoir for the clutch fluid and it is really low. Now I feel stupid. I didnít check it before I left home. It has never been low before, so I guess I got lazy. Anyway, it takes dot 4 break fluid and the store/gas station only has dot 3. So I get on the phone and try to find an auto parts store. The gal behind the counter doesnít know much so is no help and the phonebook isnít much better. Most of the pages are missing. I talk to mister Kneebone and ask his advice about what to do. I canít go on like this the route is going into more remote sections of the state and I donít want to get stuck in the dark. He calls and asks Rally Master Chalmers and what I end up doing is going to the nearest town to find something. As long as I get at least the minimum number of miles I wonít DNF. I check at two different gas stations and come up empty handed. Finally I ask a LEO where the nearest auto parts store is. He points me in the direction of the other end of town. I pull into an empty Checker auto parts store parking lot and there is one employee locking up. I ask him if he would please help me out and open back up to sell me the dot 4 I need. I explain to him the dire straits I am in. He says no he canít, the rules are what they are and he cant jeopardize his job for me. Hmmm, Iím getting frantic now. So, I ask if he would call his manager and ask for permission. He says, "My manager is in his office." And I of course as polite as pie, "Would you be so kind as to ask him?" So as it happens the manager of the Checker Auto parts store in Richfield UT got me back on the road. Thank you. One thing I havenít mentioned here is a second problem I found at checkpoint two. When I pulled up to the pump I noticed that the luggage rack my fuel cell was bolted to was breaking. Shit, now what do I do? Well, with a generous amount of duct tape I get it to a point where it looks like it will hold up. The cell was still full of fuel so as I run the main tank down I open the valve to the auxiliary tank and slowly drain it to lighten the load on the broken rack. All this has taken a huge amount of time. So skipping all the remaining bonus locations I beeline it to the third checkpoint. Of course I get there early because I took a straight route skipping most of the great roads Iím sure the true route led to. After getting my sheet signed, I figure my best bet would be to just head back towards Salt Lake I donít really trust the broken rack and duct tape. I ended my first rally almost dead last in points, but I got enough miles and didnít DNF. I learned a lot of lessons and my next rally wonít end up like this.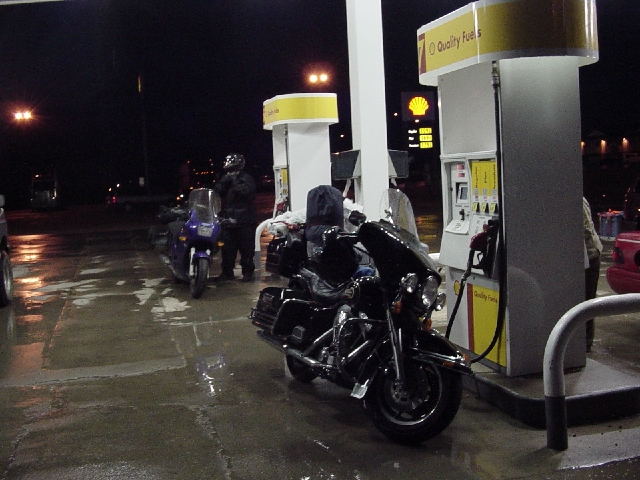 After the rally, I cut my vacation short and headed home. With everything that happened during the trip, I was getting stable sour and just wanted to go home. So ends my 2003 summer vacation.
In the fall of' 03 there was a particularly nice day and I had strapped my heavy coat to the back of the bike for my trip home from work. I had made a bad habit of doing this (not wearing my coat) for my trips home from work. This day I got home, unhooked the bungee net to get something from under the coat. After being home for a bit I went across town and having forgotten to re-hook the bungee my coat fell off and has been a nice all weather coat for somebody. To bad too, I put a lot of miles on that Joe Rocket coat. Could have been worse I guess. And of course I learned another lesson.

Later in the fall (fall being a clue here) I hit a patch of ice while turning a corner. The Triumph went down like a rock. One second up, the next....well that slide on the road was the last ride that bike gave me. As we hit the pavement, my right knee dented the fuel tank and I'm sure a spot on the road. I slid a very short distance. The bike slid into a curb and flopped over, successfully taking out most of the plastic. Time to say goodbye to the bike on which I've done most of my LDtouring and learning.
End 2003, start 2004

Out with the old, in with the new...sort of. I wrote the LDRider list asking about bikes for sale, bikes some of the good LDfolks may have grown out of. Of the number of responses I got, (each had pluses) I finally settled on a 1999 BMW K1200LT custom. This bike is set up with many of the 'farkles' I've wanted to get for myself. "To all the good folks who responded to my request, THANKS!" Each and every bike is what I wanted. It was a tough choice. The thing about asking this particular list is that the responses you get all have mass amount of miles on them. Imagine that. The LT had almost 100,000 miles on the clock. Just gettin' broke in right? RIGHT? Notice I wrote 'had' almost 100,000 miles? Read on McDuff.

(Before I go on with this story I wish to relate a couple other cool LDlist virtues. First, since I lost my coat I asked about used ones. Sure enough I ended up with a great Kilimanjaro jacket (only slightly used). Also, I snapped up a newish pair of Gerbing gloves for a good price. Each and everything I've purchased thru this list is as described or better. Thanks for being there!)

So as stated, I purchased the LT from a list member. This particular member lives about 50 miles east of Atlanta GA. Over the last few months we made the deal and I made arrangements to pick up the bike.
Well, the bike I purchased is an LDbike. I found it on the LDlist. I bought it from an LD sort of guy. And it is a long distance (relative) from my home. I decided that the first day of ownership had to be a SS1000. The most direct route is only a little more than 850 miles. But if I were to detour to Birmingham AL it would put the miles far enough over the needed 1000 to make a good route. So there, the plan is set.
Taking Friday March 12 off from work, I fly down to the Atlanta airport. My new friend (the bikes owner) meets me at the airport. We make the 50 mile trip to his house and of course the LT is sitting there looking all big and ready to ride. I look over the bike and it is as described. I am happy. Putting supplies into saddlebags and chatting with the now ex-owner I started to learn the bike. By this time I had already met the pretty young lady of the house. During the planning of this trip, I was invited to spend the night, so the mistress of the house had my room waiting for me. I took what Iíd be wearing the next day to my room and we three went for dinner. This would be my first ride on the BMW. Have I mentioned this bike is BIG? Iím a Brit bike rider. Iíve ridden old Brits for most of my life. Even my í95 Trophy was small compared to this. It is very lumbering at low speeds. But once moving it is a great ride. We had a fine dinner and rode back to their home. I asked my new friends to sign my saddlesore forms. I think they qualify, theyíve done an awful lot of IBA rides including but not limited to a IBR, a 50cc, and a BBG. I was sorry to make a short night of it but I had a little ride of my own planned for the next day.
Saturday morning comes all too soon. I take advantage of my hosts shower Dress for cold weather. And I am ready to go. My new friends are up to see me off. A little coffee and the weather channel and itís time to go. I put my bag in the trunkÖ.I have a trunkÖhee hee. The bike starts easily. I put coat and helmet on and climb on my new steed.
The first stop is at the corner gas station to get my start receipt and top off the fuel. The ride is started. Itís still dark so I play with the lights to see how everything works. The button for the PIAAís is easy but the stock light switch is in kind of a weird spot. This bike has it all and there are a lot of switches to learn. I still donít know how to use the cb. I wasnít out to make any record runs, but I donít think I did too bad for my first day of LT ownership. I made five stops for gas. The weather was nice for the whole trip ranging from 40F in the morning up to 65F in the afternoon, back down to 42F just before I got home. The bike averaged about 41 MPG. My overall average speed was about 64 MPH. A little over 15 hours total.
2004 has started off a lot better than 2003.
***List members I purchased from are not named because I didn't ask permission.
11/23/2004