The Alaskan Vacation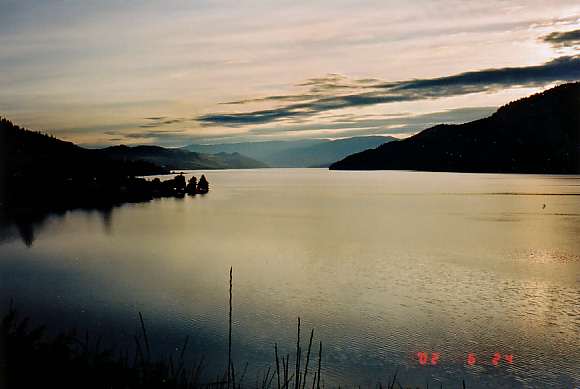 by Chuck Stults
Rain, rain, go away…… No, wait, come back!
The first day of my trip it was raining when I left work at noon to head out to Minnesota. It gradually eased up, so I think, "Great, the rain is going away". Ya, right. I no sooner get into my hotel in St. Cloud Minnesota and the Tornado sirens start going off. Geez, what a start to a vacation. Well, tomorrow is going to be a long day. So I need some rest. I call down to the hotel front desk for a wake up call at 4:00am.
Thursday June 20, 2002.
The plan is to go from St. Cloud straight through to Seattle, 1600 miles. This is going to be my second BBG attempt. BBG is short for Bun Burner Gold, one of the Iron Butt Associations endurance rides. You have to cover a minimum of 1500 miles in 24 hours or less. I get up to find that it never did really rain too much during the night. The weather channel is calling for nice conditions for today. I take a good long hot shower, put some Gold Bond medicated powder in my riding shorts, and a Blues Traveler CD in the player. Time to pack the bike. As always when starting a long day like this, I'm not drinking any coffee. It does two things to work against me. First, no sooner than I'm on the road and it will make me want to pee. Second, the caffeine that picks you up in the morning will be what slams you down long before you are ready for the day to be over. That is one of the tips you get from reading other peoples experiences on websites or lists like the Iron Butt Associations site or LDRiders list.
Well, I get the two hotel clerks to witness my BBG forms. Riding across the street to the gas station I see that the pumps are on for credit card purchases but the store is closed. I hope the receipt has the correct time and date. First thing before filling is to check the oil and tires. Perfect. Now with a full main tank (6.6 gallons) and a full auxiliary tank (3 gallons). It's time to take off.
I-94 is empty and quiet this early in the morning. It's nice, there are a few clouds so when the sun starts coming over the horizon I get a great light show. Many different hues of red and orange present themselves to me. I've been planning this trip for months. Tomorrow evening, (Friday June 21) there is a get together of some of the long distance riding community at what is known as the pre-fling party. Then Saturday is the Wetcoast Irregulars' Spring Fling. The following Saturday (June 29) is my sister Rebecca's wedding. It was this wedding I first started planning the trip around. Then, the lovely Airyn or maybe it was Joe Zalaski wrote the LDRiders list telling about the Spring Fling. So, incorporating the "Fling" into my trip west to see my sister I make a vacation of it.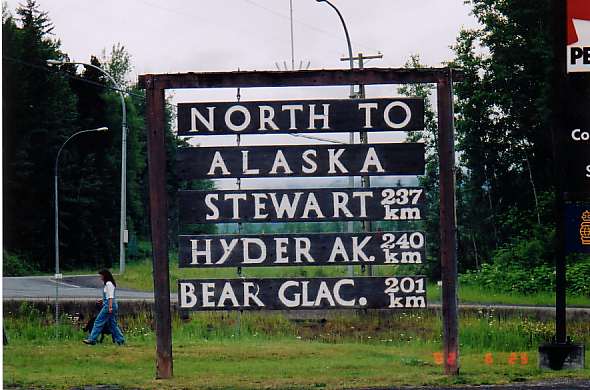 Minnesota, home of the ViQueens, (a semipro football team) is very pretty with all of the tiny lakes, streams, trees, and farm land. I've always loved this part of the world so fresh, crisp and clean. The landscape slowly changes, still beautiful, but different. A little dryer, a little flatter, but still very lovely. People ask me what pleasure I get from flying down the interstate not really seeing anything. Well, one of the things I tell them, is that I get to see a lot of places. Some places I intend to return to and investigate better, some, a quick glimpse is more than enough. I also ask them, "Have you gotten to see all these places in person"? Most say no.
It doesn't take long and I'm seeing signs for Fargo North Dakota. By the time I'm half way across this state, it's getting hot. I am one of the few in the long distance riding community I know of who prefer to ride without a helmet. Being claustrophobic, I've never found one that fits comfortable. Anyway, the rising temperatures make it necessary for me to start shedding layers. I really am free to go bare headed until I reach Washington. So off come the layers and helmet and on goes the sunblock. The first half of North Dakota is rolling prairie followed by the carved topography of the Badlands in the western part of the state. Here the land has been sculpted into colorful canyons, gorges, ravines, bluffs and buttes. The stuff old westerns were made of.
Montana is a very large state with a wide range of landscape and culture. It has planes, mountains, semi-desert, lakes, and rivers. Just about anything you could ask for. The history of this state is just as varied. In early times, before the original inhabitants (the native Americans) were kicked off their ancestral lands there were as many as a dozen different tribes living here. Once the Lewis and Clark Expedition of the early 1800's told of this lands natural beauty and wealth, white people poured in and took over as if it was their own. Such is life. Anyway, I know I shouldn't get started on subjects like that. It's just that this state is so wonderful. I'd love to spend days, weeks, and months exploring and riding through what has to be among the best roads in the world.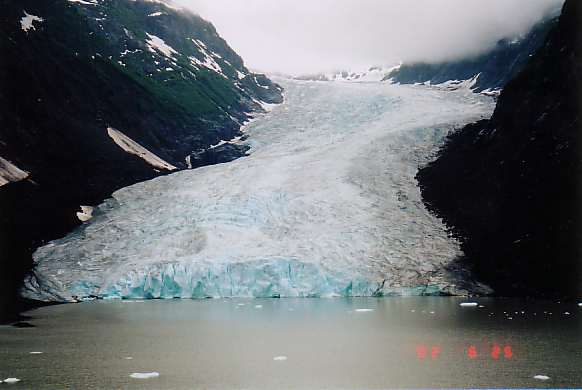 By the time I reach Idaho the sun is lowering. Riding west, it seems to take forever for the sun to not be blinding you. It seems that no matter what way you hold your head the glare of that hot white ball in the sky still permeates, still drives fingers of pain into the back of your head. I've been through this narrow strip of Idaho many times. It is very beautiful. Like western Montana, everywhere you look is another mountain vista. Living in southern Wisconsin as I now do, I miss the mountains. It is such a wonderful thing to be able to look in any direction and see the majestic back drop that a mountain range will give you. To quote A.B. Guthrie "...I like Idaho. The crystal streams. The rushing rivers. The forests. The mountains. The lakes as blue as paint. The splash of mountain ash or maple. The foam of the syringa, the state's official flower. The awesome wastes. The fruitful fields. The warm friendliness of crossroads and town. The high sky over all." It is very nice and passed through much too fast. And on this particular trip, not enjoyed nearly as much as past trips, because of that damn hot ball of gas we call the sun!
Half way through Idaho I pass an SUV. Well I guess he didn't really like being passed because he passed me back again. Well, ok, I was starting to feel tired and needed something to keep my mind concentrated on, so I use him as my bird dog and tail him for a while. Well, this turned into a bit of a game. Him trying to lose me, and me just having a good time flying down the interstate. In this central part of Idaho approaching Coeur d'Alene, the interstate has quite a few sharp curves. At least they seem sharp at the speeds we were traveling. By this time, the sun was finally low enough to where it wasn't a problem. It has been a long hot day and I still have better than 300 miles to Seattle and my 1600 mile mark. True, I have only to complete a little more than 200 miles to get the BBG, but I would like to do a little better than that.
By the time I reach the bridge which crosses the Columbia River, I am getting really tired. Unlike some hot little chickie (Cori Phelps who I met briefly at the Fling) who did her BBG and returned by this route (since my trip), I've had great weather. No heavy wind to speak of, and no fuel problems holding me up along the way. So I don't have those as an excuse as to why I am dropping like a stone. I figure a little more than 50 miles to Cle Elum where the 1500 mile mark should be. Somehow I am going to finish this thing. God I'm tired!
Finally reaching Cle Elum, I stop and pick up fuel and a receipt. The GPS reads 1512 miles and my odometer reads 1520 at about 23.5 hours. I figure I'll ride a ways further and get another receipt to just cover any possible discrepancies. Well it seems, that I was lucky to have gotten fuel where I did, because all of the other places I looked before the 24 hour mark were closed. At about 24.5 hours I stopped at a Denny's and got a bite to eat and indulged myself in some coffee and a salad and more coffee.
With the small rest and intake of caffeine I felt refreshed. So I put my sore backside in the saddle one more time to finish my 1600 miles. After all, I have a motel room waiting for me near where the Fling is to be held. So I get to the Motel 6 at 5:00 in the am to check in. I took a nice long hot shower. Then as I lay down on the most comfortable bed I've ever been on, I call home to let everyone know I'm ok.
I didn't set an alarm figuring I deserved a good long rest. 3.5 hours later I woke up. What the hell? I should be sound asleep. Oh well, I get up and take another shower and call my sister Rebecca. She is home so I head up to Capital hill in Seattle for a visit.

I'm feeling pretty good after my nap. So after spending some time reminiscing and checking out all the remodeling she has done to her new house I take a little ride. Finally I figure it is time to head over to Joe Zalaski's place for the Pre-Fling get together. Once there, I meet a lot of people I've chatted with on e-mail or read about on the LDRiders list. The food was very nice. Fantastic hors d'oeuvres, crab, and tri-tips. Some of the best eatin' I've done in a long time. Joe asked all the folks present to look around and point at the most exhausted person in the place. For some reason, everyone pointed at me. I guess I was just sitting there like a lump. I was actually feeling very full of myself for having finished the BBG that morning. The tiredness seemed like a badge of honor.
Saturday June 23, at the Café Veloce. By the time I got there, there were many already in attendance. I am much refreshed after a good nights sleep. I've already been to see my sister again, and took a little excursion to Pike Place Market. If you are ever in Seattle, you have to visit Pike Place Market. The shops, the smells, it is a Seattle landmark. Café Veloce is a bikers place to eat. The motif is one of a kind with all the old fashion race bikes mounted on the walls. I won an AMA membership donated by Team Stranger Eddie James. After eating a great Café Veloce sandwich I snapped a few photos of the bikes and the crowd. All too soon it was time to leave. Tomorrow I head north, I should probably try to get a good nights sleep. After a little tossing and turning, I am finally aloud to catch some needed rest.
Sunday June 24, starts out cool and overcast. Hmmm, looks like rain. It did rain a little that day, riding west then north through one of the most beautiful states in the union. But mostly the weather was nice for wearing the protective clothing. Not too hot, but not so cold where I had to turn on the Gerbing either. As Goldielocks once said, "It was just right". Stopping way too often for photos or looking for trinkets for friends and family back home, my progress is slow. But that is why it is called a vacation. Hwy 2 through east central Washington is great. The Cascade mountain range and Mount Baker Snoqualmie national forest are very beautiful. Hwy 2 eventually leads you to hwy 97 where you get to follow the Columbia river for a spell. Gradually the landscape gets dryer and the air temperatures raises as I follow 97 north.
By the time I cross the border into Canada it is very dry and warm. I shed the protective pants knowing full well that my touring buddies would advise against it. I know what I am risking and live with that knowledge. Anyway, British Columbia like Mexico looks a little seedy when you first enter it on 97. I think they do that on purpose to throw off the less than avid tourist. Maybe they figure that it makes us dirty USA'ers feel more at home. I don't really know what the reasons are, but once you break through this crust, BC only gets better the farther in you go. It is really tough to fully explain how fine this part of the world is. It is clean. It is fresh. It is beautiful. One way, I guess to explain the difference between here and home is its attitude. For example, I'm filling up at a Shell station and the attendants are outside taking the bottles of windshield fluid and wiping them down one by one to get the light dust off of them. The station owner runs out with a sheet of paper in his hand exclaiming, "We passed, we passed! We got 100% on our secret shopper report". Well, I knew exactly what he was talking about because I have participated in what corporations do to check on their branches. They hire normal everyday people to report their experiences at such places as this. It was nice to see the pride in their faces at this simple 'pat on the back'. Now, being short on cash, I choose the cheapest looking hotels along the way. In my part of the world that would mean creepy icky. Here, it is like you are in another world. Clean is a good word to describe these little treasures. My first night in Canada, this was a pleasant surprise. I was blown away at how nice everyone is and how clean everything is. Have I said CLEAN enough times?

I pass Kelowana, Kamloops, Cache Creek, Williams Lake, Prince George, and Vanderhoof. What's with this 70 Mile House, 100 Mile House, and 150 Mile House? Don't they know it's the 21st century? It should be 112KM House, 160KM House, and 240KM House. This last is for those who have gone this way. Others won't understand. (: There are a lot of large bodies of water along this route. I like looking at the lakes and rivers. They all seem so very desolate. I would live in a place like this if only I was self-sufficient. But I know I need to be near some civilization. Not too much, but some. This would be bliss up to the point of needing groceries or motorcycle parts. It would be a pain to have to drive more than to my corner store to get bread and cheese. At Prince George I find hwy 16 west. This 300-mile stretch of road makes the previous part of my ride pale in comparison. And then once on hwy 37, "North to Alaska" this 130+ miles is shear splendor. It has been raining since Vanderhoof, but it doesn't detract from the immense beauty of this place. I stop to get a few photos of Bear Glacier. And then I'm in Stewart BC. Nice little community, clean and quiet.
Then, as I'm passing out of Stewart the pavement ends. Hyder Alaska, sure it's just barely in Alaska. But it's far enough to say I was in Alaska. After hearing so much about the Sealaska, that is the first place I head. It's about 3:00 on Tuesday afternoon. The sign on the door says that someone will be back at 4:00pm. So I put my tank bag and pillow under the awning and snap off a couple shots of the front of the inn to prove I was there, and a couple more of the mountain vista seen from the Sealaska front porch. It was raining and overcast as previously stated. But the beauty couldn't be denied. The only drawback was my Trophy really isn't made to slip and slide around the water filled potholes. Gary, the proprietor of the Sealaska opens the door and offers me a drink. I chat with Gary for a while and ask him what being Hyderized meant. Well, he pours me a shot of this fine sippin' whisky. He says, "Don't sip, and don't breathe. Just toss it back." So of course I do as he says. Good stuff. I've drank my share of corn whisky from down south so this wasn't too bad. Gary informs me that they don't serve food on Tuesdays, but the second best place in town (Sealaska being first) was just down the street in an old school bus. "Just turn left at the corner, you can't miss it", he says. Well, I rode in the direction indicated and got to a point where I figure I'd gone too far. But now I can't find a place to turn around. This 'road' was very slick and muddy and I was finding it difficult to navigate. I did finally reverse my direction and then turned into what looked like a dirt/mud driveway to find the earlier mentioned school bus. I must say, the fish and chips at the little school bus were fantastic. If this place (can't remember the name) is the second best, I'll definitely want to return to sample the Sealaska's fare.
I'd gotten a room from Gary earlier so after dinner I went back and took a hot shower in room number 2. Then I went back into the bar to find a cute little bartender doing the serving. I made the mistake of telling her I'd already been Hyderized so she proceeds to tell me that Gary has a rule. "One per customer, per night". It's just as well, I was heading back south early in the am. Sure would have liked to bring a bottle of that there sippin whisky back with me. Hee hee, I could get Hyderized at home. Oh well.
On the way back to Seattle, I backtracked until I got to Cache Creek. Instead of 97 I took Hwy 1 south. This cut a great deal off the distance. Hwy 1 is another great road. It takes you down along Fraser River through Hells gate, a fantastic gorge with shear drops and high towering cliffs. You can see where the train tracks have a shed built over them in places to protect from snow and/or landslides. I wish I had more time. But as I mentioned in the beginning, my sisters wedding is this next Saturday, in Seattle and I will not let her down.
Heading into Vancouver the rain starts to get very heavy. The heaviest I've ever ridden in. The wind was bad off the big trucks and cars were pulling over from the low visibility. I figured it was safer to keep going rather than pull over and get run down. By the time I got to the US border the rain had lessened to light drizzle and then not at all by the time I was entering Bellingham Washington. I stopped and visited Bob Irwin, who runs Champion Cycle the local Triumph dealership in Bellingham.
Coming close to Seattle I decide to stay on the North side again and have dinner at Café Veloce one more time. The next morning I move all my stuff to Rebecca's and spend a day with her before the big day. Saturday, we all go to this fancy private club where there is a hall all dressed up in wedding finery. Then the traditional style wedding with rings, singing and music followed by a fabulous spread. The food was served buffet style and I couldn't taste everything there was so much. Later, after all is said and done I go up to my bed and set the Screaming Meanie for way too early.
Sunday morning, June 30. After loading all my stuff on the bike I got Rebecca and Barbara to witness my IBA forms. You see, I intend to be home tomorrow evening. The plan is to do two back to back 1000 mile days. The Iron Butt Association calls it a Saddlesore 2000. So off to the gas station I go. Again it's an unmanned, self serve station. But it does have the required time and date. This time my intention is to take I-90 all the way home. The first part of my journey home is backtracking the route I took to get here until it breaks off in Montana. The trip through Idaho is very nice going through in the morning. I'm able to strip off helmet and hot coat and on goes the sunscreen again. This day turns out to be a personal best for me. I've been trying to pare down the length of time I spend at fuel stops. So by the time I reach the thousand-mile mark in Wyoming it's at about 14 hours.
Monday July 1, I get up and prepare for my final day of this trip. I say it's the final day, but in the back of my mind I wish I could keep going right on through the Fourth of July weekend. That would of course be nice, but I need to save a couple vacation days for the second half of the year. Anyhow, I pack the bike and head out. It is already very warm, and seems to be getting very windy. The farther I go east the windier it gets. By the time I get to Spearfish, Sturgis, and Deadwood South Dakota it is like riding into a blast furnace. The wind is coming out of the south and at times has me riding at what feels like a 60 degree angle to the ground. As I approach Deadwood I start to enter into the smoke from the fires down south of here. It is very thick. And now not only am I being 'blow-dried' by the hot wind, I'm being smoked. Well, I've been called a jerk, now I'm being turned into smoked jerky. Here is where I wish it would start raining again, it doesn't.
It goes all day like this. I've always used the old, "Worst day ridin' is better than the best day workin" schtick, but I don't know anymore. This sucks! By the time I get into Minnesota, it has eased up a very little bit. But as I pass into Wisconsin it eases up a lot. The sun is going down slowly. What wind there is, I'm heading into for the most part. I prefer heading into the wind than across it. It is cooling down only slightly, but it is a lot more bearable.
As always, this part of the trip is bittersweet. The feeling of accomplishment combined with the disappointment of being over. I really do enjoy this feeling of freedom on the back of an inanimate object that carries me along faithfully over so many miles. It is hard to put into words these feelings of joy and sadness. But the sadness is oh so short lived. Why? Because there is always tomorrow, another road, another destination.

back to British By Chuck home Page
page by Naomi 11/23/2004 11:55:53 PM -0600