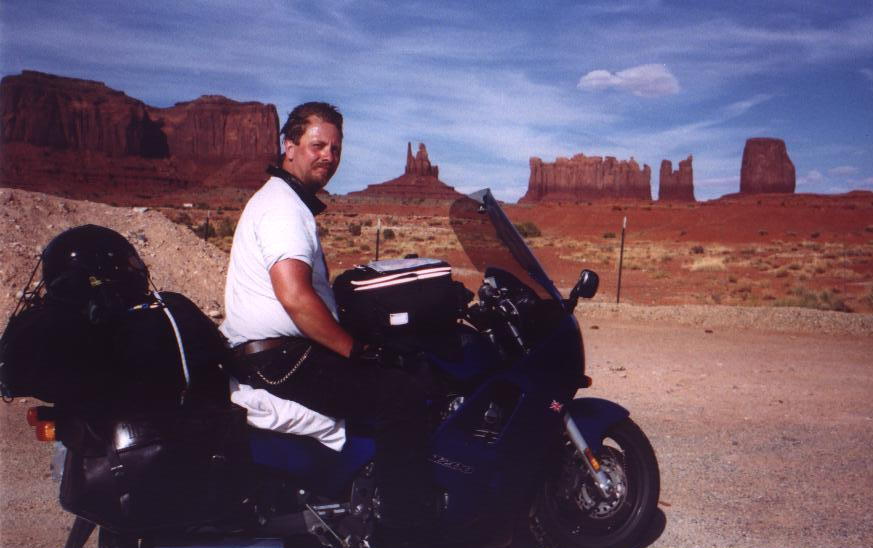 Chuck and the Triumph against the Utah Skyline
Making plans for a two week trip is rather alien to me. You see, I've never had a two week vacation before. So in the early part of the year 2000 I decide to take an extended motorcycle trip. I've ridden all through Wisconsin. I've ridden all around the northeastern part of our country and home again. I even rode my 1969 BSA chopper from Wisconsin to Atlanta and back, some years ago. But I've never... ever climbed into the saddle knowing that I would not be home again for two whole weeks. When I started making these plans, the timing was predetermined for me. I had already made commitments to go to the vintage swapmeet and motorcycle races at the Mid Ohio race track, north of Columbus Ohio. These races are scheduled for July 7-9. I always have plans to go to the British Biker Cooperatives (BBC) annual rally and motorcycle show. This rally is scheduled for July 21-23. The clincher for this two week plan of mine was when I received the International Norton Owner Association's newsletter explaining where their national rally was to be held. You see their vice president described it so well, that I was immediately swept away with the idea of attending. Well, this rally is scheduled for July 14-16 in south central Utah. So, as I said, it seemed like July 7 through July 23 was determined for me.

Please enjoy my story;

Red Skies at Night - Rider's Delight
Now, to plan a trip to include these three activities. Without boring the reader with all of this, let's just say that I made plans to go to Mid Ohio, visit a pal in Phoenix, visit my brother in Los Angeles, attend the Norton nationals in Torrey Utah, head back to the west coast and up to Seattle to visit my sister, and slam it home for the BBC rally.
Ambitious to say the least. Well, it will be explained in more detail later, but I miss the Norton nationals in favor of a rock concert in LA. Most of the rest of my plans work out reasonably well. As stated previously, it is always my intention to attend the BBC rally. So as I'm packing my bike, climbing on, and heading down the road, I'm heading off on my Triumph to Blue River Wisconsin's, Eagle Cave. Home of the BBC rally. Driving to Columbus on Friday July 7 was sunny, hot, and boring. I rode my '95 Triumph Trophy 1200cc motorcycle through Lincoln's birth state, through Indiana, and a good way into Ohio. The roads were mostly flat long stretches of uninterrupted asphalt. Very few hills and valleys. Once well into Ohio, I found that the trail lead into some areas that interested me a bit more. I have always enjoyed finding what was around the next curve, or over the next rise. The great state of Ohio has all anyone could ask for in
riding pleasures. It only takes a little looking.

My good friend, Henry Boltuc, AKA "Hank the Wank", invited me to crash at his place while I was at the Mid Ohio swapmeet and races. Arleen, Hanks beautiful young wife is a fantastic cook. I could live forever on her noodles alone. What a treat these two people are. You should see their house, it is very fancy. I hear it has a lot of Hanks hours in paint on the walls. Needless to say, I'd move in with these two if I only had half a chance. Mr... Wank keeps a very neat and orderly work area.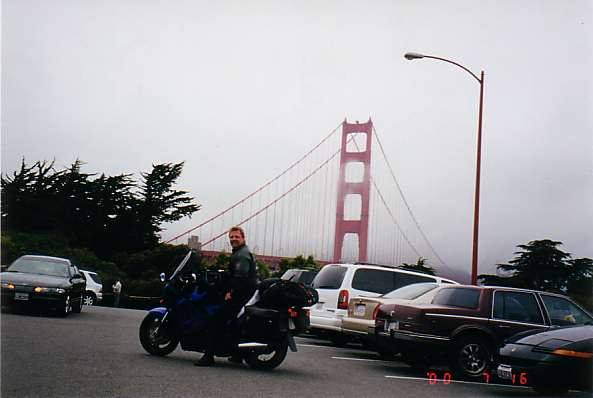 The Golden Gate - San Francisco
The chopper on his work bench will only add to his many pristine motorcycles, once completed. The first night in Ohio they took me to a quiet and subdued little pub not far from their home. In this pub, I find a hot little number who happens to be a transplant from Wisconsin. If I remember correctly, she is working on a law degree. What a catch that would be. Well, she served me well all evening long. Did I mention she was tending the bar?

Another treat was finding an old friend, Ted Simon of "Jupiter's Travels" fame staying with Hank and Arleen. Ted is a fascinating guy. Anyone who would take on the task of riding a 500cc Triumph around the world is OK with me. Ted made this trip at the age of 45. I guess that proves that one can still do fantastic things in their middle years. Still hope for me!

The swapmeet at the Mid Ohio race track was HUGE as usual, and as usual I didn't get to see much of the races. I'm always too busy trying to find that illusive "Deal". This year I didn't find anything that I thought I needed to take home with me. What I did find, was that once again, it is a great pleasure just wandering around seeing old friends as well as meeting new people, and making new friends.

On Sunday July 9, the plan was to ride from Columbus to near the Colorado border. Nearly 1100 miles. I'm planning to complete the Iron Butt Associations (IBA), "Saddlesore 1000". Riding 1000+ miles in under 24 hours. Now, to some people this sounds like a lot. But it can be done, and in a lot of cases, done for consecutive days. I only wanted to do the one day. Knowing that the roads I was going to travel were quite flat and boring, it only made sense to "fly" past them at a quick pace. The Saddlesore 1000 would do this quite nicely. The initial plan was to complete the task in about fifteen hours. But as everyone knows, plans sometimes don't work out the way you like. In a total of about sixteen hours I finished my first day out of Columbus. Not too bad I think, for an old fat guy. I-70 takes you out of Ohio, through Indiana, Illinois, past the St. Louis arch (Gateway to the West), through Missouri, and Kansas. For hour after hour I cruised through farmland and cities, I skirted a thunder storm and fought the wind for many miles. In the prairie states the wind can become quite strong. For most of this day, I leaned at about 60 degrees just to keep the bike on a straight course. Needless to say, by the time I reached the 1000 mile mark I was beat. So, scraping the idea of making it to the Colorado border, I start to look for an exit with a hotel. After gassing up and getting all the IBA forms signed and completed I find a room in a quaint little hotel. The hot shower helped ease my sore and aching muscles. I slept like a dead man that night.

On the morning of July 10, I enjoy a fine leisurely breakfast. Hop on the Triumph and head to Colorado. It seems like almost immediately the landscape starts to change. The road gets a few more curves, as well as some nice rise and falls. It's sunny with a few fluffy clouds floating on the bright blue sky. One of these fluffy clouds was a bit larger than the rest. As I am passing under it, I get hit with a huge drop of water. Then I get hit with a few more drops. It rained just enough to feel good, cool me down a bit. But not so much as to make me put on my rain suit before it stopped. As I'm riding I keep looking to the horizon. I keep expecting to see mountainous terrain in the distance. Finally, after climbing to the top of a slight rise I see a faint silhouette of what looks to be the Rocky Mountains. What a beautiful sight. What splendor. It is hard to NOT look at these tremendous peaks. As I get closer to the mountains on I-70, I start to approach Denver. The interstate passes very near the heart of this city. Of course there is the big city traffic to deal with. And as always,
you have to fear the blue haired granny in the Lincoln. Thankfully I make it through unscathed. Once through metropolitan Denver I exit the superslab for the more serene HWY. 40. Following this road I start to relax a bit. Not too much though. This path leads me over some really high areas with many tight turns. I believe at one point I am 9000+ feet above sea level. It's strange, there is still a bit of snow in places along the side of the road. I'm only wearing a T-shirt, and when I get stopped for some road construction, it seems chilly. The sun keeps me feeling warm enough to not have to put on more clothes, but there is snow. So I know I should be colder than I feel. Oh well, before I really feel the need for a jacket I come to SteamboatSprings CO. You can turn three hundred and sixty degrees and see mountains on all points of the compass from this town.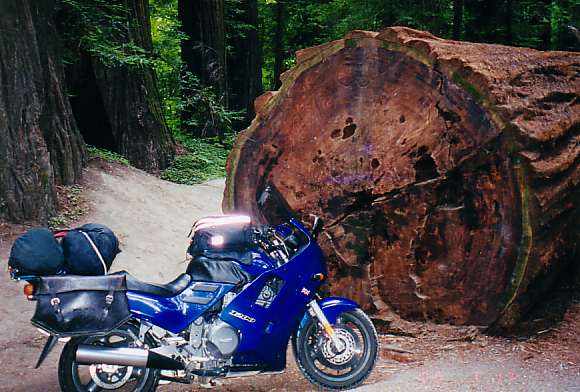 Now THAT'S a Log!

I've been riding on some roads that really let me use this bike as it was designed. Later I notice that the tires are becoming a bit worn on the sides. This is really the first time I've put this sport bike through such... punishment. Punishment really is not the right word for it. This
was pure fun. Near Steamboat I find a nice little spot to put up my tent. Once camp is set, I head into town for some dinner. I was having such a good time today I didn't stop for lunch. So a steak sandwich at a local tavern hits the spot. Not much going on, on Monday night in Steamboat Springs. Just a quiet evening, then back to camp and a good night sleep.

Tuesday morning, the dew is thick on the bike seat as well as on the tent. So before I can pack up, the sun has to be high up to evaporate the
moisture. It takes a while for the sun to get over the mountains. Turn the tent once to let the sun dry the other side and I'm able to get my gear packed up by 10am. Looking towards town I see a hot air balloon that had just taken off. While filling up with gas I see a poster explaining that it was the weekend for the Super Duper hot air balloon lift off. I don't really think that was what it was called. I know if I were to have stayed a bit longer I would have been able to get some great photos. Oh well, I don't really have time to stay.

HWY. 40 leads me to Craig Colorado where I hook up with Hwy. 13 and go Left (South) towards Rifle CO. All fantastic riding. The roads in this state (with the exception of the Denver area) are very nice. Well maintained. Coming down out of that area of the Rocky's is as much fun as climbing up the other side. At Rifle I hop back on I-70 west for a very short stretch. Here it is starting to get very warm. The landscape is still very exciting. But it is changing to a dryer more desolate kind of place. I had filled my gas tank at Rifle and planned to fill again when I got off I-70 at Cisco Utah. Well, let me tell you. There is no Sisco Utah. Unless you call a handful of rundown condemned buildings a town. Needless to say, the gas station in this town was nothing more than an empty hull of a building with
tumbleweeds blowing buy. No gas, nothing. So I head south on Hwy. 128 along the Colorado river, headin' towards Moab Utah.

This stretch of road called 128 starts out rather dry and foreboding. I had been having an itinerant problem with the bike acting like it was running out of gas and I was afraid it would act up again in this hot dry place. Well the road leads down to and through one of the neatest canyon roads I've ever been on. This canyon followed the Colorado river and there were many rafters out on the water and busses moving people and big rubber rafts all along this route. If you watch the travel channel, I'm sure you have seen this place. The walls of this canyon tower hundreds of feet directly over the road and river. Exiting the narrow confines of the canyon, you almost immediately find the touristy little town of Moab, thankfully within the range of my gas tank. If you are going to travel this way on one of our vintage British bikes, be sure to fill your tank in Grand Junction Colorado before heading down this way. It is a hot long way to walk if you run out of fuel. I believe Grand Junction is the last gas stop before the Cisco exit heading the way I did.

Now it is getting on towards afternoon and I'm wondering which way I should go. I'm working my way to Phoenix to visit my bud Mutt (AKA, Nick Velvet). He had given me a great route to take to his house. Problem is, I originally planned to come back this way to the Norton Nationals. Plans being what they are... well let's just say, they changed. So I deviated a bit from his directions to include Monument Valley in northern Arizona. John Wayne got to see a lot of this area while filming many of his movies. What an awesome place. Almost every photo I took had to be panoramic. There is no way you can photo document what I'm seeing here with normal pictures. Everything is big, wide... panoramic. Now, after riding through this area, I am getting tired. I do not want to camp in this heat, it is just not comfortable to me. Besides, I need a shower.

Leaving Monument Valley I begin to look for a hotel. The first place I check is a H-day Inn in Kayenta AZ. Cheapest room $125. Well, suddenly camping sounds a bit better. I am a cheapskate after all. I head towards Tuba City AZ thinking I'd find a room there. But now I figure that being so close to the Grand Canyon, Tuba City hotel prices will be similar to those near Monument valley. So I just whiz on through. Just as well I guess. I end up on the north side of Flagstaff AZ somewhat after dark. Coming into Flagstaff, the smell of the Juniper trees in the Coconino National Forest is like nothing I have ever experienced. What a wonderful candy coated pine smell it is. I can still remember this, it made a great impression on me. One more plus in going all the way to Flagstaff was the sunset I was given
to share with the world. Every moment, here then gone. Never to be seen again. Never quite the same.

Arizona is more or less a hot state in July with a few exceptions. One of these exceptions is Flagstaff. This is a very nice city. With it's higher elevation the temperature does not get as warm as say Phoenix, more than one hundred miles to the south. Leaving Flagstaff, I take HWY. 89 south through the Oak Creek Canyon toward Sedona AZ. This place will blow your mind. I don't think there is a straight stretch of road, the whole length. All along this trail you will find the local indigenous folk selling Chinese made "authentic American Indian" trinkets. Once in Sedona you find that it is mostly a tourist trap. Lots of shops selling very high priced goodies, a helicopter ride, and a view that is easily the main attraction. After looking at all the expensive stuff, I continue on south until I reach HWY. 279.

Going east on 279 past the Montezuma Castle National Monument I hook up with HWY. 260. This takes me through some very nice forested lands. You can see why there are so many people retiring to this area. It's laid back and peaceful. In a nice little town called Show Low, I turn south once again on HWY. 60. This highway runs through the Fort Apache and San Carlos Indian reservations. Very beautiful. The Salt River Canyon is a deep gorge with steep, tight curves that lead down to what looks to be a swimming hole for the local children. Crossing a small bridge you immediately start winding your way back up the high walls. The temperature has been rising this whole time. By the time you reach Globe AZ you are facing into a blast furnace.

The stretch of HWY. 60 between Globe and Phoenix AZ can only be described as HOT. The air rushing by your body no longer cools you. I think it is because your sweat is dry before it reaches the surface of your skin. I am riding due west in the late afternoon. The sun is in my face. The 110 degree heat is only intensified by the suns reflection off of the pavement. I am saved from dehydration by my good sense to bring along a bladder of water and a couple water soaked bandannas. Following a van who seemed to be in as much of a hurry as I to get to Phoenix, I am cruising along at a solid 100 mph. Let me tell you, it doesn't help to go fast. In that kind of heat, it only causes wind burn along with the sun burn.

The Redwood Giants

I finally reach my buddies house about 3pm. As previously mentioned, I'm heading to Phoenix to visit an old friend. Mutt is the kind of guy you have to meet to appreciate. I don't have the words to describe him fully, but I will give it a try. Mutt is a rather large individual. He has a somewhat gruff and hairy visage. His hair is graying slightly and thinning almost not at all. There is a better half to this guy. Her name is Tanya. She is a dark haired angel who likes to ride her own big v-twin and does so more often than, and for longer than a lot of guys I know. Tanya can cook a steak to perfection. She is a beautiful lady and smart too. Can you say doctor? Anyway, they were very hospitable. Of course I had a bit of a hangover when I left for LA.

Friday, July 14, I leave Phoenix very early in the morning to try to miss the hottest part of the day. I have a date in Los Angeles at noon. The trip west on I-10 was for the most part straight and hot. Entering California they stop you to check for foreign fruits and veggies. I guess they don't want to introduce an inferior produce or something. I don't know. Passing near Palm Springs is windy. No. it's more than windy. It's gusty! The wind blows from many directions. I guess it must be the norm here as they have electricity generating windmills by the hundreds planted in lines. It looks like rows of funny looking tall corn in the fields and on the sides of hills.

My girl friend, Naomi had decided that since I was taking a two week vacation, she was going to see one of her favorite bands (Metallica) in concert in LA. My original plan was to go to the Norton Nationals near Torrey Utah this weekend. As it turns out her date for the show cancels and it all works out that since I was going to be in LA to see my brother anyway, we decide that I will fill her spare seat at the rock concert, and forgo the Norton nationals. She used her considerable computer skills to acquire a car for $20 a day, a four star hotel in LA for around $55 a day and a really cheap round trip plane ticket. So the two nights we spent in LA were about as inexpensive as you can get. I had a good visit with Mike, my older brother. We do not get to see each other very often. The bands at the concert were OK, and let's just say some of the ladies were showing off their feminine wiles (A story I will not get into here. This is a family page after all). Naomi caught an early flight out on Sunday. I got the bike packed early and headed north out of the City of Angels on I-5.

It was my wish to see the Golden Gate bridge again. So somewhat south of San Francisco, I get off I-5 and cut across to HWY. 1, the coast highway. Unfortunately, the closer I got to San Francisco the foggier it got. The views from the coast road are very nice. High cliffs and sandy beaches every curve another vista for the camera. All of a sudden, near Half-moon Bay CA, I see what looks to be a British flag on the front of a building. What do you know, Cameron's Restaurant and Inn. A British B&B. Bed and Beverage. They don't do breakfast. I decided to take a break and have a steak sandwich and a beer. I purchased a cool T-shirt and snapped a few photos and I was on the road again in a flash.

San Francisco is a neat town. I would like to come back sometime to better see the sights. With my time constraints, I can only stop long enough to have my photo taken near the Golden Gate bridge and head north again. As I said, all day today the fog seemed to be increasing along the coast. I wish to extend a warning to other weary travelers heading in this direction. If you are traveling in northern California, driving the coast highway at night and in the fog is not a good idea. I misjudged how long it was going to take to reach the town I planned to rest in this night. So when the sun started to go down I began to realize that the driving conditions were becoming quite treacherous. The coast highway becomes quite difficult to say the least under these conditions. Anyway, as I'm feeling my way to my nights lodgings, I notice that the road I'm on seems to have some rather large trees along the side. In the fog these trees are huge! This last part of my evenings ride seems to have lead into the land of the giants. Or more specific, "The Avenue of the Giants".

Monday morning July 17, I wake up and head out on to this, "Avenue of the Giants". That is what the signs say the road leading through these big trees is called. Nature sure out did herself in this part of our country. Being early on a Monday morning, the traffic on this road was minimal. I'm able to take my time and really enjoy these grand old trees. I sure hope future generations are given the opportunity to enjoy them as I have. Of course I can not pass up an opportunity to get a couple more photos.

Upon leaving northern California I jump back on I-5 in southwestern Oregon. It is a shame to have to fly through this beautiful state. But I now am on a mission. It is my intention to be in Seattle this evening. So rushing through Oregon and southern Washington I miss a lot of beautiful scenery. Getting close to Tacoma WA., I see Mount Rainier. Mount Rainier is like a large breast on the horizon. Very beautiful. Very large. Once again I misjudged how long it was going to take me. I guess I spent too much time in the Redwoods, because I didn't make it to my sisters place until around 10 PM.

Having lived in Seattle for a time, you would think I knew this city better. But it was all new to me. Still as beautiful as I remember, but I could not make heads or tails of the streets. As with many of the other places I've been to this trip, I'll have to go back and spend a bit of time. I chatted with my sister Rebecca until my eyelids started to close then headed off to my cushion on the floor. I got up early the next morning and went to breakfast with my older sibling. As always, there is not enough time when you would rather have it last. She, having obligations at work and me, wanting to get on the road, I go back and pack up. I wanted to go to Pike Place Market as well as some other places, but with the bike all loaded for the road I didn't think it prudent to cruise around the big city. So I jump on I-90 and head east.

Washington is a state with many different landscapes. And the route east leads over many different types of terrain. Today it starts out with Seattle's famous "London Like" rain. Then as I climb up into the Cascade Range of mountains the rain changes to sunshine. The trip over Snoqualmie Pass was as chilly as I remember. And the desert like area of eastern Washington turns the air quite warm. The I-90/Columbia River bridge had a new site from when I was here last. At the top of the gorge there is a vantage point/rest area. From this area you can get a great shot of the river and bridge. Then if you turn 180 degrees and look up slightly they have installed some breath taking statues of wild horses.

Now following I-90 east once again, all there is to see are the fields of produce. All proudly showing signage telling what it is they are growing in each field. All thanking the dams which allow them to irrigate this desert into tillable soil. In Spokane WA, I catch up to one of our service men, (Airforce I think), riding a newer Triumph Sprint. We get stuck in a bit of a traffic jam together. So after exchanging a few pleasantries, I spot a hole and pass most of the interstate parked car. Now, just a few more minutes and I will be out of the helmet law states. You see California, Oregon, and Washington all make you wear a helmet. Now all the states between me and home allow each individual rider to choose whether or not to wear a skid lid.

Idaho is a very beautiful state, with it's Bitterroot mountain range. It has some areas that make you want to pull over and just stay. Montana also has some very nice photo opportunities. Coming up on the Continental Divide, the mountains are breath taking. Here is the obvious reason Montana is called "Bigsky". The horizons seem to go on forever. Flying through these states is an unjust punishment. I am teased with the beauty, but do not get to leave the interstate system for more than just mere moments it seems. Knowing that I am missing some of the countries most awesome riding does not sit well. But I started this trip knowing that I wanted to end it at the BBC's annual rally. So fly through I must, or I will not get to Wisconsin in time for said rally.

In Wyoming, I make camp under the rock called Devils Tower. Many movies have been made using this land mark as back drop. It is an awe inspiring sight. Entering South Dakota I start seeing signs for the famous "Wall Drug" in Wall SD. Since I am not interested in the crowds that go along with Sturgis, I have never been inside this western icon. Well, I guess once is enough. Even in the biker off season, this trap is over flowing with tourists. I got out as quickly as possible. I'm not much for crowds. Crossing the street, I enter a saloon called the Cactus Cafe and Lounge. After I cool my pipes with a drink, I fill up the tank at the local gas station and get back on the interstate. Other than fuel stops and one more night sleeping under the stars, that is my last "Sight" before I get to Wisconsin. I pass the signs leading to the Badlands National park. I pass a small domesticated herd of buffalo. Pass through the state with 10,000
lakes.

Entering Wisconsin, I feel a great sense of loss along with an equally great sense of gratification. The loss is in knowing that my extended time on the road is almost over. The gratification is knowing that I am completing what I set out to do. I have always wanted to make a trip like this. I had been planning this ride since the first of the year. The folks at my work were getting tired of my continual chatter concerning this ride.

Friday July 21, I arrive at the Eagle Cave campground to find the BBC's registration booth set up near the bottom of the hill leading to the camping area. I'm almost immediately pressed into service working on the security detail. Friday goes as most do at the BBC rally, with the exception of what seems to be more people arriving early, as in Thursday. I come to this rally every year because I have a lot of friends who also attend. Some of them, this is the only time I get to see them. The Triumph company has their semi trailer of new motorcycles set up for demo rides. The campground has recently paved the parking area so this is very nice. The (RAT) Riders Association of Triumph group is in charge of the Friday meal and band. Both are very nice.

Saturday is also very predictable. With the exception of a couple minor mishaps, Sat. comes off without a hitch. The bike show is up to it's usual standards. Lots of groups of riders going and coming. Many people enjoying the "New Triumph" demo rides. There was also a Poker run, a "Burn one" run, and a few others, but I forget what to call them. The dinner is OK, getting in first was nice. The Saturday night band was, in my lowly opinion very good and up to BBC standards. As always, I enjoyed my BBC rally. I hope everyone enjoyed theirs as much.

Sunday I wake up, pack the bike one last time and take a leisurely ride home through southwestern Wisconsin. Some of this countries most beautiful roads. 7285 total miles.


back to British By Chuck Home page!
Created By Naomi 8/24/2002